The podiums of speed: men - 1. Qixin Zhong (CHN), 2. Ning Zhang (CHN), 3. Maksym Osipov (UKR), women - 1. Cuifang He (CHN), 2. Chun-Hua Li (CHN), 3. Cuilian He (CHN).
---
Afternoon news from the speed: Czechs Libor Hroza 26., Lucie Hrozova 24.
Semifinals in lead: Sachi Anma (JPN) and Ramon Julian Puigblanque (ESP) sent top, Tomas Mrazek (CZE) continues from the 3rd position.
From favorits Patxi Usobiaga (ESP) and Cedric Lachat (SUI) have not continued. The finals is postponed again and begins at 20,30 h.
---
Saturday:
News from speed: Because of heavy rain Emergency meeting has been called. The wall for speed was totaly wet, the competition was interrupted till Sunday.
Schedule changes: speed qualification from 8,30h, lead semifinals from 10h, speed finals from 12,30h, and lead finals from 14,30h.
---
News from lead qualification: Tomas Mrazek sent TOP in lead qualification, Lucie Hrozova mistook hands and finished in qualification on 40th. place.
In 18,10 qualification in speed starts. There are rain showers, changing with sun. Now for speed there is really strong rain. There are rain drops visible on the snap: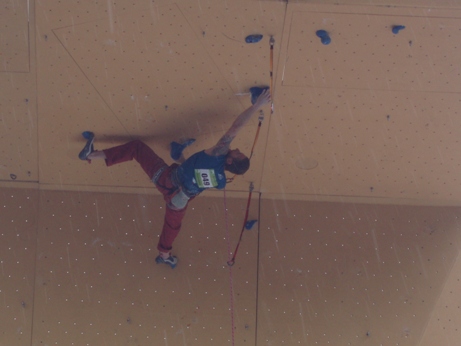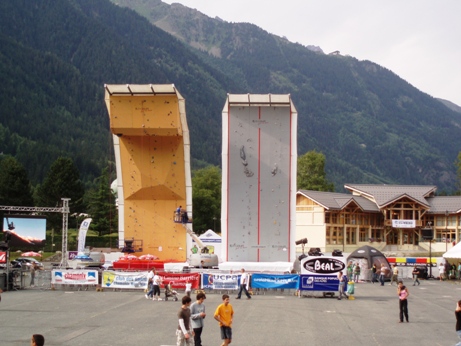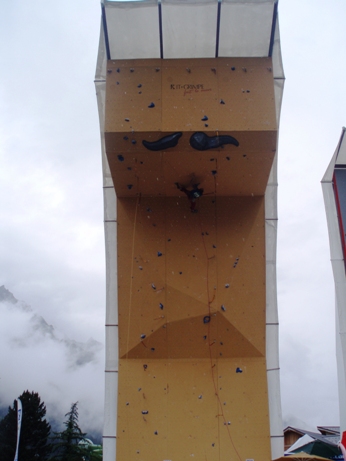 ---
Over 200 competitors from 27 countries has started in the World Cup competition in lead and speed climbing in Chamonix (France). There are two outdoor walls, one for lead, second for speed.
Because there are only 6 competitions of the lead World Cup 2008 , no one can be under valuated.
The rules concerning of the time limit 6 minutes in qualification , 8 minutes in semifinals and 8 in finals give better chances to stronger climbers. According to the new IFSC rules the qualification should be on FLASH, but similarly in Qinghai, China, 2 weeks ago, the organizers did not wont to do that and climbing is OS.
Czechs on the start:
Lead: Tomas Mrazek, Lucie Hrozova.
Speed: Libor Hroza, Lucie Hrozova.
Program:
Saturday:
qualification Lead men from 9h, women from 14,30h.
qualification Speed men and women from 17,45h.
Finals speed from 20h.
Neděle:
Semifinals Lead men and women from 12h.
Finals Lead men and women from 20h.